If you feel as though you need more space in your home, why not think about creating more living space outside. When the weather is good, outside living is a pleasure. You can eat outside with the family, and you can also use an outside living space as a place to socialize with friends.
Before you start to bring the inside of your home out, you need to think about what you want to include in the project. We are going to give you some ideas that should help to provide you with the inspiration that you need.
Build Your Own Fire Pit

Having a fire pit in your yard means that you can create a cozy atmosphere in your outside space. It also means that you can stay outside as the temperature starts to cool. When you are building a fire pit, you will typically need to make sure that it's at least 25 feet away from any structures and trees.

Create a Deck

If you are going to create an outside living area, you need a space to sit. Building a deck is a good option. It's worth noting that it can take several days to finish building a deck, so you need to make sure that you give yourself enough time to complete the project. Make sure that you rail and light the deck as necessary so that it's a safe place to spend time.

Light Your Outside Space

A deck is not the only part of a yard that requires lighting if you are going to move your living space outside. You should make sure that paths are lit, as part of any outdoor lighting design. This helps visitors to your yard to be safe at all times.

You can also use lighting to accent areas of your yard that you want to highlight. If you want to install a full range of lighting outdoors, you will need to lay cables. However, you can simply use solar powered lighting if you want just a few lights, to illuminate paths and seating areas.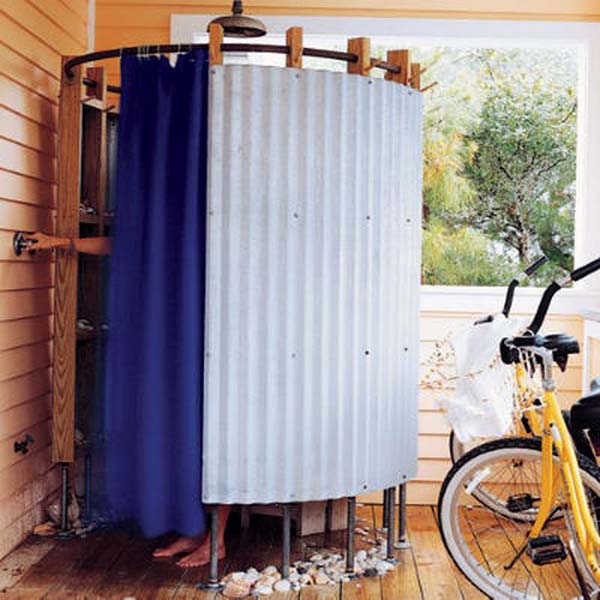 Install an Outdoor Shower

If you have a pool, adding an outdoor shower to your home can be a great idea as it makes it easier for you to wash down after a swim. Outdoor showers can also simply be a good place to cool off in the hot weather.
If you are building an outdoor shower, try to make sure that it fits in with the natural environment. You can build the shower around a mature tree and even include plants in the design of the shower.

Add Some Greenery

Of course, you can't forget to add some greenery to the space. Not every plant you add has to be a living one either. You can add fake plants to make things a bit easier. However, adding accent pots and a layer of mulch will give your outdoor space an extra pop.
Best bandsaw for the money can be used when bringing your indoor living space outside. They can help you create an outdoor living area that is a special place to spend time with family and friends.