A playroom is a space where your kids can let loose and have fun. Having a playroom for your kids at home is important. Not only will a kids playroom keep your little ones busy for hours, but it will also keep the rest of your home clean. Kids can leave their toys, books, and other belongings in the playroom instead of spreading these items all over the house.
There are countless ways to create a playroom that every kid in the neighborhood will envy. Here are some of the most unique design ideas:
Bring the Outdoors Inside
Many kids love the idea of having a treehouse in their backyard, but if that's not a possibility, allow them to live out this fantasy in their treehouse-inspired playroom. Your kids will be eager to have their friends sleepover in their one-of-a-kind indoor treehouse. 
Add A Chalkboard Wall
Parents typically worry about their kids grabbing a crayon or marker and drawing on the walls, but that won't be the case in this playroom. Adding a chalkboard wall to your kids playroom is a simple and inexpensive way to instantly make the room more fun and kid-friendly. Make sure to give your kids chalk in all different colors so they can create colorful, creative works of art.
Give Your Kids Space to Recharge
Kids will spend most of their time playing in their playroom, but at some point, they will need to take a breather to recharge. Carve out a space for them to take five in their playroom so they can still spend time with their friends while they rest.
You can create the perfect resting spot in your kids playroom by stacking comfortable pillows in one corner of the room. You can even put a canopy over the pillows to make this section of the room cozier and more inviting.
Build A Stage
If your kids are natural performers, consider building a small stage in their playroom. Building a stage may sound difficult, but you don't need to be a professional carpenter to tackle this project.
You can construct a small stage using lumber from a home improvement store. Once it's built, secure it to the wall using drywall anchors. Then, add the finishing touches by hanging curtains on each side of the stage. This will allow your kids to make dramatic entrances every time they perform.
To really make this playroom special, create storage space next to the stage for your kids props and costumes. 
Let Your Kids Climb Up the Walls—Literally
Parents often feel like their kids are climbing up the walls with extra energy, so give them an opportunity to literally climb up the walls in their playroom.
Paint one wall in your kids playroom a solid color—preferably black. Then, attach climbing holds onto the wall so your kids can literally climb to the ceiling.
The climbing holds must be positioned properly for this to work like a real rock climbing wall, so make sure to get your kids to help you with this step. Install the first couple of climbing holds and ask your kids to stand on them. Then, ask them to stretch out in all different directions so you can see where you should place the next set. Continue this exercise until you have enough climbing holds for all of your kids to enjoy their new climbing wall.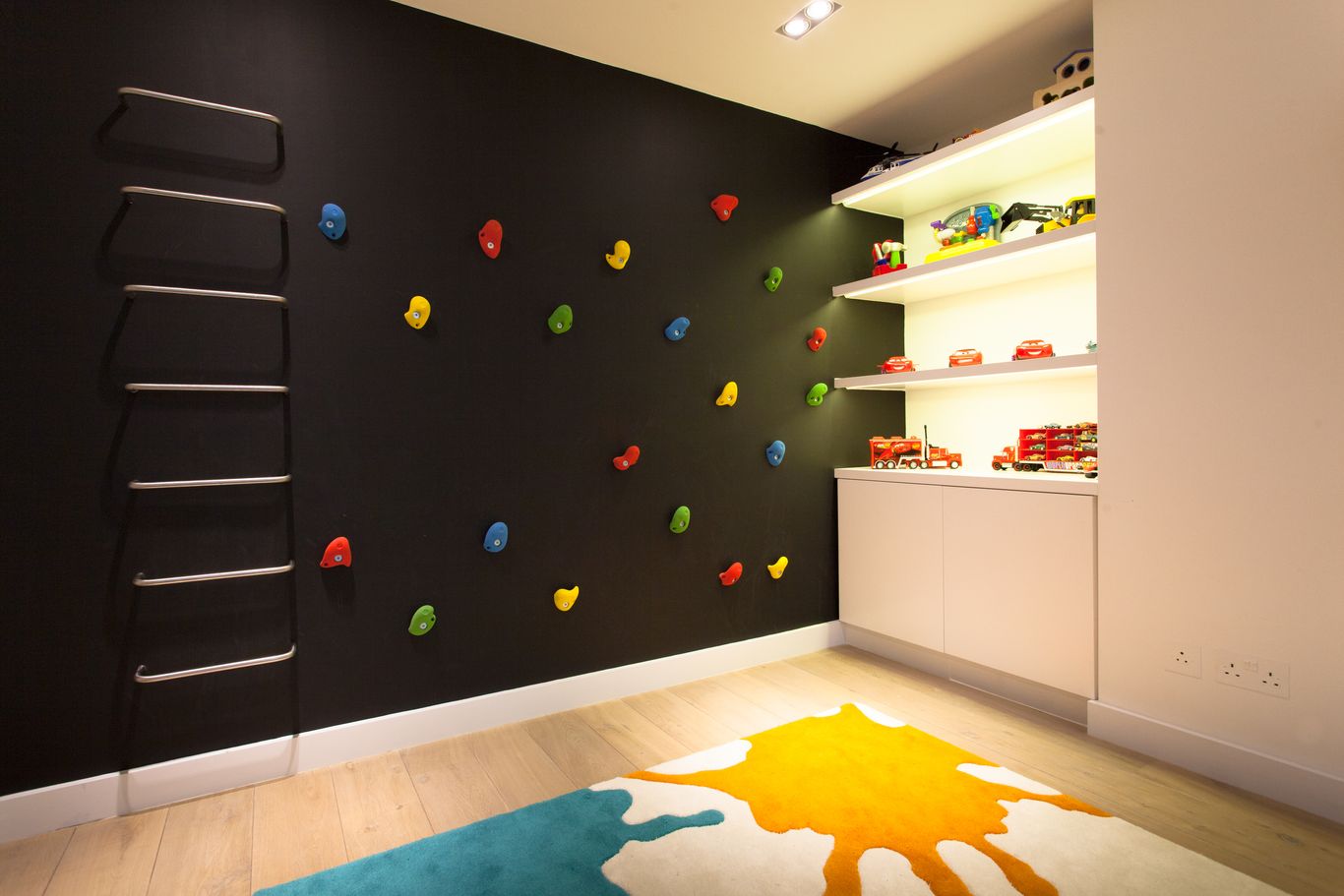 Provide Plenty of Workspace
Kids often use their playrooms to engage in artistic activities such as coloring, painting, and drawing. If your child is an artist in the making, be sure to design a playroom with plenty of workspace.
Look for a kid-friendly table with two to four seats so your child can create art with their friends. Pick a table with storage space so you can keep your child's art supplies at their workspace at all times. This way, crayons and colored pencils won't end up scattered all over the playroom floor.
Make sure to leave the walls empty so you can frame and hang the masterpieces that your kids create in their new playroom.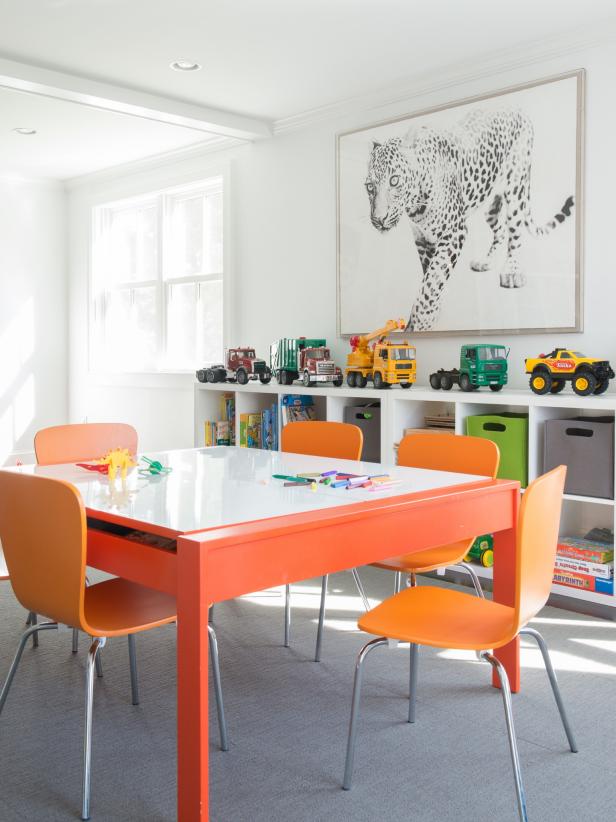 Don't Forget to Include Energy Efficient Features
There are plenty of ways to transform the extra room in your home into an incredible playroom for your kids. Regardless of which design you choose, make sure to include energy-efficient features, such as LED lighting, ceiling fans, and window treatments to block out the sun. After all, there's no time like the present to teach your kids how to save energy at home.